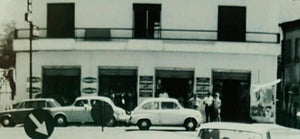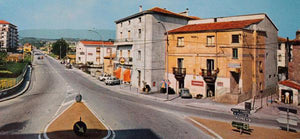 In Italy, we have an overabundance when it comes to premium culinary ingredients.
Knowing that, our de facto founder, Emilio Sergio, established a grocery store in the historic city of Cosenza, deep in the heart of southern Italy. Emilio dedicated himself to providing locals and visitors alike with the very best Italian-made products so that everyone could appreciate and enjoy the bounty of this beautiful country.
La Nostra Storia
We like to think that first store played a small part in Italy's economic and emotional recovery in the post-war era, bringing commerce and pride to the community.
Not many years after, with Emilio's son, Renato, entering the family business, a new store was opened in scenic Quattromiglia di Rende. Building on the same philosophy of offering only the best, most authentic local foods, it soon became the largest store in the area.
—
Emilio Sergio (right) standing behind the counter of the original store
Expanding on a Vision
Today, more than seven decades later, Emilio's descendants continue his legacy, bringing premium Italian olive oils, vinegars, and dressings to the world. We carefully curate only the very best from skilled producers, many of whose family histories and connections to the land stretch far back into the mists of time.
It is our pride and pleasure to share these exceptional products with you, selected with care and brought together under one roof – House of Exte.
—
The original store located near the busy hub of the Castiglione Cosentino train station (left).